6 Useful Ahrefs tips
Here we tell you 6 tricks to get the most out of the ahrefs tool, from finding content and link opportunities to easily detecting cannibalisation.
Today we are going to tell you some useful tips for Ahrefs for those of you who are not very familiar with the tool or are just starting to use it. This tool offers a lot of useful information and although it is not perfect, it can make our life much easier, especially if we know how to make the most of it.
Today we want to help you get more out of this tool with functions that you may never have explored before, or procedures to follow to get useful information, such as discovering cannibalization.
1. Generate link baiting opportunities
In case you don't know what link baiting is, I recommend you to read our post in which we explain what link baiting is and strategies to get links.
When we want to make a link baiting strategy, and we need ideas about what content can work but do not know where to start, with Ahrefs, we can see what kind of content are the ones that attract more links to our competition and use it to our advantage. How? Super simple:

Once inside, in the left side toolbar we select Pages → Best by links.
This will show us the following table, in which we can sort the contents by number of domains that link to the articles (as in the image) or even by Dofollow links. This way we will know which contents attract the most links to our competitors and we will be able to attack that strategy.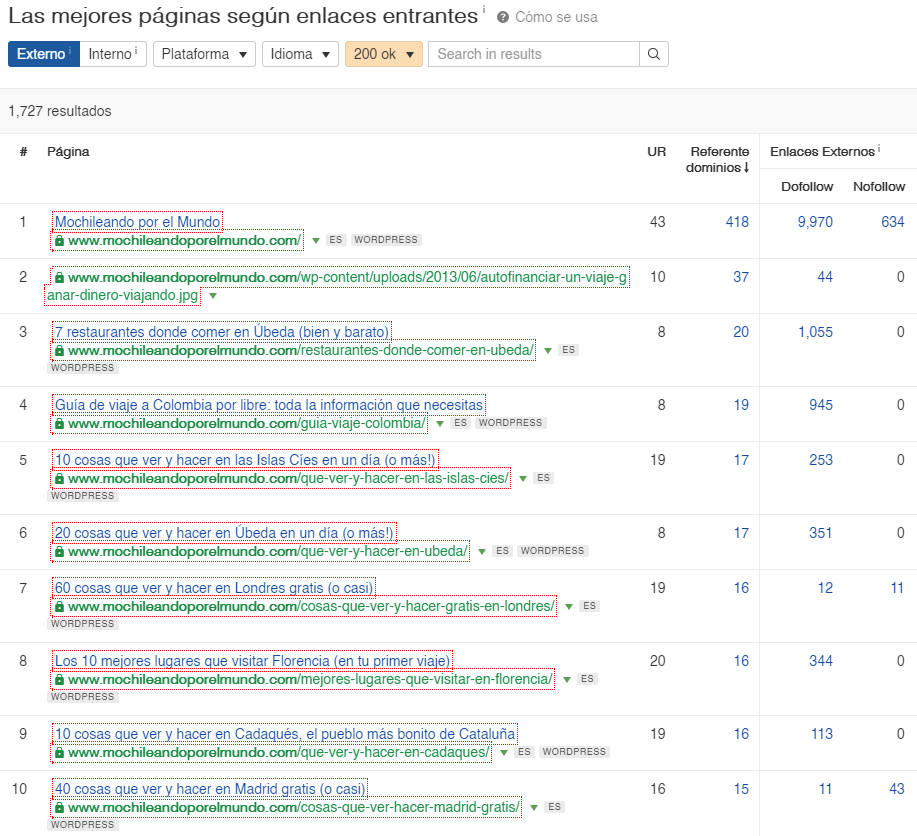 2. Replicating common links from the competition
Another trick to get links is the Link intersect tool, this tool allows us to analyze multiple domains against ours to see which domains link to them but not to us.
This strategy can be useful to get links in a simple way, because if several competing websites receive links from the same domains, it can mean that we can also get that link.
To do this, click on «More» and go to the section «Link intersect».

In this section we can add up to 10 competitor domains from which we will analyze their link profile. It is very important to place our website, or the one we want to apply this strategy to in «But they don't link to (optional)» so we can see the domains that link to our competitors but not to us. Continuing with the theme of travel, I have placed 5 of the most important travel blogs in Spain.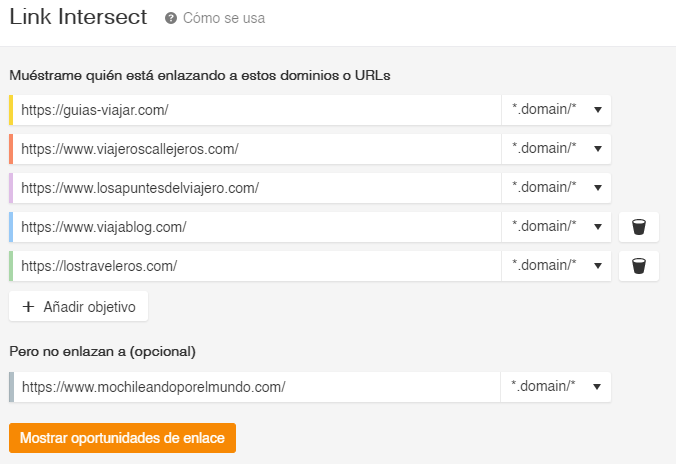 This will result in a giant table with a lot of data. Before we start interpreting it, let's start by applying restrictions with the «Intersect». This dropdown allows us to isolate the links from domains that link to as many of our competitors' websites as we select. That is, if we place an intersect of 5, we will be filtering for domains that link to all of the competitor's websites that we have placed, but not to ours. If we place an intersect of 4, we will be filtering by domains that link to 4 of the domains we have placed but not to ours.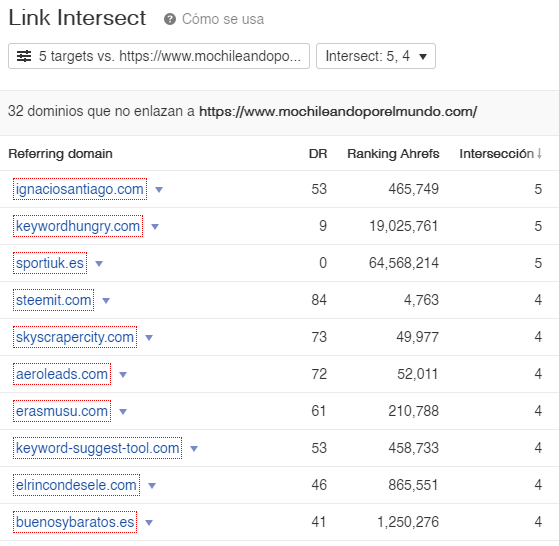 This will result in the following table (a bit longer, showing each competing domain). In it, we can see how the first three results link to each one of the domains we have submitted, but do not link to ours. This may be an indication that the link may be replicable, although it does not have to be.
3. Detect content cannibalization
Cannibalization is a headache for many SEOs, and although detecting them is not always so easy, today I am going to explain a way that can help us find them.
First, are you really suffering from cannibalization? It often happens, especially with not very competitive keywords, that our website occupies the first and second position in the SERP, does that mean that two URLs are cannibalizing us? No. (it doesn't.) Sometimes it happens, and as I said before, especially with not very competitive keywords in which due to lack of relevant content on other websites, or because Google considers that another of our content is better than the rest of the ones on the SERP, it decides to put us in similar positions.
So, when do I have to worry? When your keywords are competing for the same position and the rankings change a lot, where only one of the landings is ranking, and they are changing position and competing with each other, then you have to worry.
So, how do we detect cannibalization with Ahrefs? We have two methods.
Organic Keywords 2.0 review
Recently, Ahrefs introduced the new keyword tool «Organic Keywords 2.0». This revamped version offers data that the previous version did not, including the review of keyword cannibalization.

As we can see in the image, in the URL column, we have the option «1 more» which indicates that this keyword is ranking in one more URL. If we click on that «1 more», it will offer us a list of the URLs for which that keyword is ranking.
This tool is great for finding cannibalization quickly, but you are 100% dependent on the application as there is no way to export them, so if you want to extract the cannibalization to have them in a document, or give them to the client, you won't be able to. That's when manual extraction comes into action, which is a bit more complex but will allow us to have it in a document.
Manual extraction
We will start by entering the domain in the Site explorer, and in Organic Keywords we will analyze all the keywords for which the domain is positioning.
In this case, I have applied a couple of filters, one of position below 20, this way it will only report keywords in the first 20 positions, because if one is first and the other 75th, we don't care. With this we reduce the number of keywords to analyse, and we also reduce the size of the export, which depending on the plan we have contracted can be very important.
On the other hand, I also exclude the sitelinks feature, as this would give us results for several URLs on the same keyword, making everything more confusing, as in this case.

All these steps are not necessary, but they help to make the data much easier to interpret. With the final list, we export it by clicking on the «Export» button at the top right, and open it with Microsoft Excel or an equivalent spreadsheet.
Once the document is open, we keep the fields we are interested in (Keyword, Position, Volume and URL) and delete the rest of the columns. When we have only the fields we are interested in, we select the whole column of the keywords and mark duplicates, in Excel this is done from Home → Conditional Formatting → Rules for highlighting cells → Duplicate values.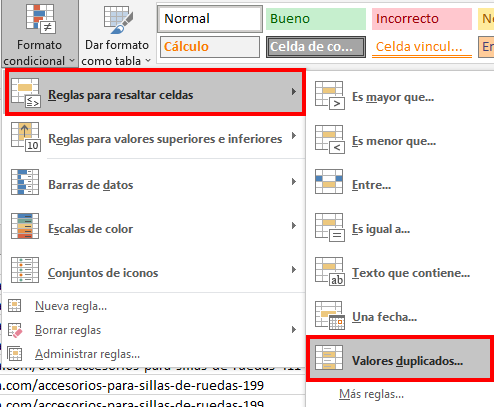 With the duplicate keywords marked, we apply a filter on the Keyword column and filter by the colour we have chosen to mark the duplicates, in this case red. Finally, we use the filter again to sort the Keyword fields in alphabetical order (in this way the repeated keywords appear together). If we follow all these steps, we will get a result like this: (You can click on the image to see it bigger)

In these first rows, we can draw conclusions such as that all keywords related to wheelchair accessories are positioned in two different URLs. If we look at the position history of that keyword in the URL of Ortopediaencasa, we can see how the two URLs are fighting each other for the position of the keyword.

So we can find cannibalisations with Ahrefs, unfortunately, they will not always appear in the first rows of Excel, and we will have to delve into the depths of the spreadsheets, but it is what we have to do!
4. Analyze the keywords for which your competitors are ranking, but you are not.
Having our enemy under control is important, that's where the Ahrefs «Content gap» tool comes into play, this tool allows us to know which keywords our competitors are ranking for, and we are not.
To access this tool, we must enter the domain we want to analyse in the «Site explorer» as we have done several times so far. Once we are analysing the domain, in the block of tools on the left, we select «Content gap».
Once inside, the operation is the same as the Link intersect. We place our competitors in the upper fields, and our domain in the lower one. Then we can check the option that the keywords that it shows us, at least one of the competitors has it in the TOP 10. This is according to our preference, unless I want to go very deep I usually leave it activated.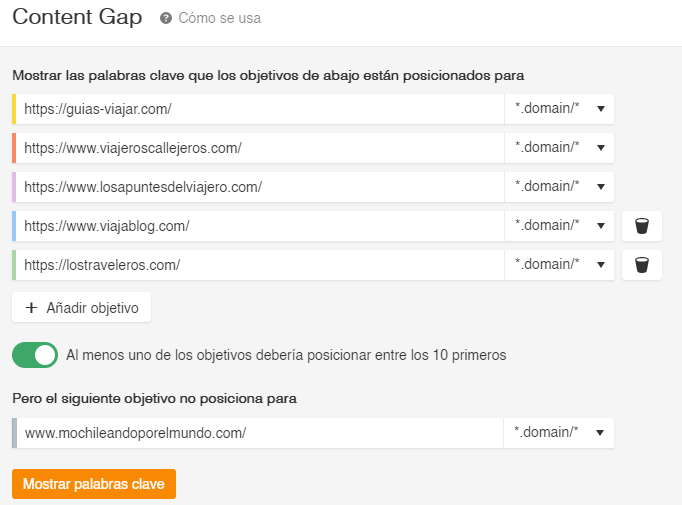 If we click on the Show keywords button, it will show us the table of results, the same as in the intersect link.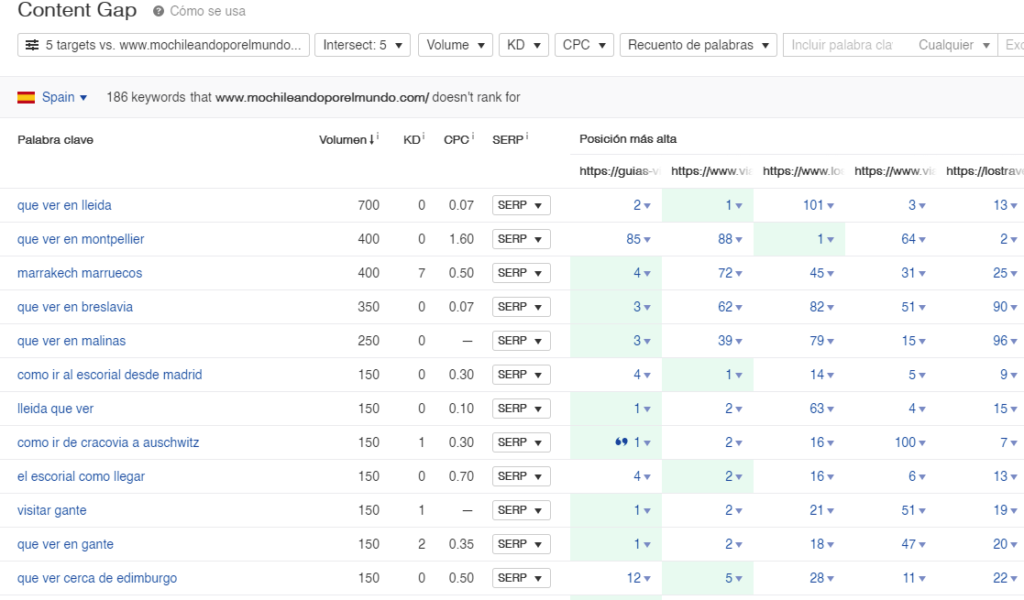 content gap results
In the table, again we can filter as we like, for example in this case I have put an intersect of 5, which means that all the competitors that I have put position for that word (and at least one in TOP 10) and we (or in this case mochileandoporelmundo) do not. We could add more filters, such as a minimum or maximum volume.
As a result we see that, for example mochileandoporelmundo, could make contents about «What to see in Lleida», «What to see in Montpellier» or the others that we can see there.
5. Massive analysis of URLs (Up to 200)
Another tool that can be useful is the quick batch analysis tool, or «Batch Analysis». This allows us to know information about a list of URLs that we provide. In which cases can we use it? I can think of a few.
Google Search Console / Screaming Frog reports a series of 404 URLs and before removing all inlinks and get rid of them completely, we export the list of URLs and pass them through the Batch Analysis, so we can see if these URLs are receiving inbound links from other domains, taking advantage of them and making a redirect to not lose that authority. It may also be that the 404 is recent, and the URL is still positioning for something, in which case we could apply a similar tactic and see if these keywords have a place on our website and redirect the URL to avoid losing them.
Client sends us a list of URLs that are going to be removed from the website because they no longer have a place / the product is discontinued. We can run this list through the quick batch analysis tool to see which of them had traffic, were positioning for something or were receiving links and thus act on it.
We are going to remove a number of URLs for whatever reason, and we need to check if any of the URLs have traffic, keywords or links.
Lots of other reasons! At the end of your life as SEOs you will come across a list of URLs that you need to analyze, and this tool allows you to do it quickly.
To access it, just click on the «More» button on the top bar and click on «Batch Analysis«.

Once inside, you can paste all our URLs (one per line) and start analyzing!
Inside we can find quite a lot of information, but the most interesting is:
Number of keywords
Estimated traffic
UR and DR (although they are falsifiable metrics)
Reference domains.
6. Keyword tracking / Projects
This functionality allows us to obtain a much more constant update of the main information of our domain. Like the evolution of the incoming domains, the evolution of the estimated traffic and the evolution of the number of keywords. But what is most important here is to know the positions of the keywords that we want and that are constantly updated. Ideal to see how our project is evolving. My colleague Manu talks about how to know what position your website is in Google in this great post. Anyway, here we will focus on how to do it with Ahrefs.
One of the positive points of Ahrefs keyword tracking is to be able to track keywords that are not in the Ahrefs database, which are usually keywords with a very low search volume. If they are not in its database, it will not give us the volume data, but it will give us the position data as the bot searches for the keyword to give us its position.
Anyway, the most important point in this case is to be able to have updated data on our keywords, because sometimes, if we only go by the Ahrefs keywords database, we can find words that have not been updated for months, while with the rank tracker, with the lowest plan we will get secure updates every 7 days, and every 3 days with the best plans.
To configure it, first we must register our website as a project. In the dashboard itself we find the button.

This will take us to a URL where we will have to enter the URL of the domain under the «Scope» field following the instructions indicated. Then we will assign a name to the project and click on Continue. If we have the domain property verified in Google Search Console, it is highly recommended to link it, as this will allow us a more advanced crawl and in general a greater utility for the tool. In my case, as the websites I am using are examples, I do not have access to their properties.
If we continue, the next window will ask us if we want to perform a crawl of the website. This is practically a Screaming Frog integrated inside Ahrefs, it is very useful. As in this case I use Screaming Frog, I disable the crawls, both the programmed and the immediate one.
We continue with the setup, in the next screen, is where we are going to place the keywords that we want to track.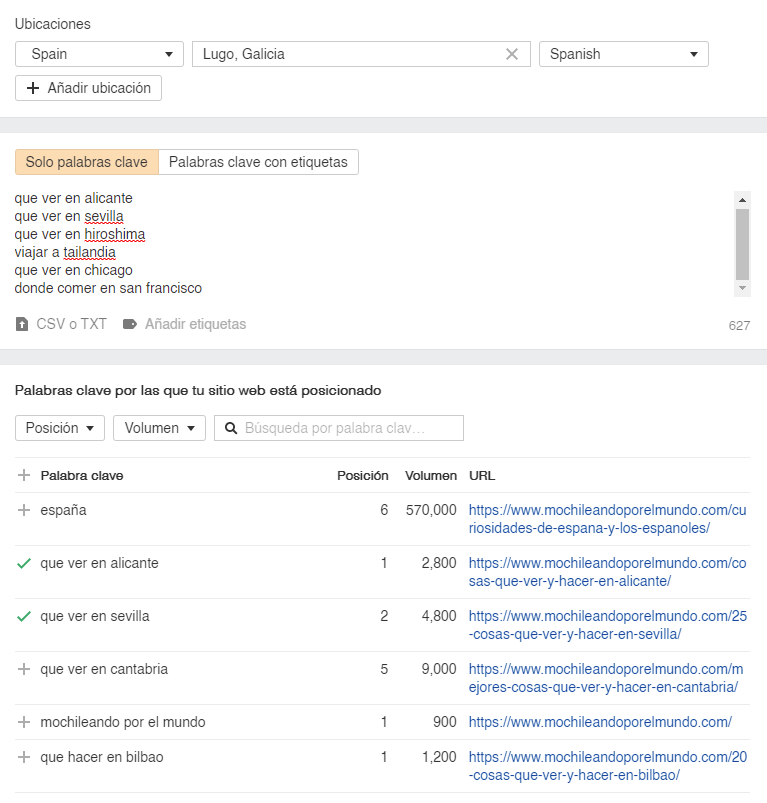 As we can see in the image, we can be very precise, we can even choose a specific city where we want to know the position of the keywords we will track.
In the next field we will add the keywords (one per row). And in the last field, the tool itself gives us ideas of keywords that we may be interested in tracking, just click on the plus to include them.
If we continue, in the next window we will be asked for competitors, we can add them or even the tool itself provides us with some of them. Finally we click on finish, and we have our project on the dashboard! If we click on the field «Tracked keywords» we will access the report.

In the image we can see the keyword, the position, the volume and approximate traffic, as well as the URL for which it is positioning. We also have the Update field, which tells us the last time the position of that keyword has been checked.
We can do interesting things with the keyword tracking, if we select the keyword boxes we can tag them, this way, if we have a large volume of tracked keywords, we can track them according to our interests, for example: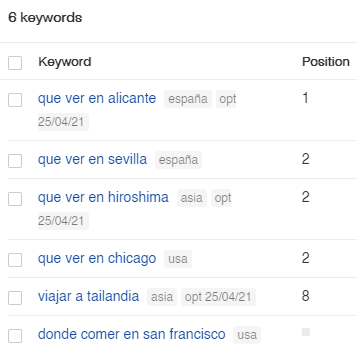 We can use the tags to make a distinction of the keywords depending on what geographic area they are on, or we can even add a tag of the date on which we optimize those keywords, so we can track them better.
Another way to see their evolution is with the small button that allows us to see the evolution graph of that keyword.

In this case, it indicates that the keyword is in first position. As this project has just been added for the example, a history is not shown, but if there is one, it would look like this.

In the image we can see how we went from first position to the fifth, but recently we have returned to first position in the keyword.
Final conclusion
As we have seen, Ahrefs is a very useful tool that can help us a lot in various situations that we may encounter in our career.
The tool is not only the little tricks that I have told, it is very powerful, as we have seen, it has an internal crawler at your disposal, a super complete backlinks tool, another to do keyword research … In short, it is a great tool. Which I can consider, along with Screaming Frog, my favorite.
I hope these tips have been useful and will help you to solve problems or in your development. If you've made it this far (which is commendable), thanks for reading! I encourage you to take a look at the rest of the blog posts, they are great. And if you subscribe to our newsletter I'll give you an altar.
Greetings!
---
---
---